Develop optimal maintenance strategies
With Reliability Centered Maintenance (RCM) at its core, the RCMCost module of Availability Workbench™ enables you to determine the best maintenance strategies based on reliability prediction techniques and operational data provided.
It helps you calculate the cost of failure modes by comparing the benefit against alternative strategies. Plus, by examining each critical failure mode to determine the optimum maintenance strategy, you can reduce the severity of each failure while considering cost, safety, environmental and operational consequences.
Then, once optimal maintenance policies are in place, RCMCost provides system performance predictions for expected resource and spare parts requirements so you can create budget forecasts.
---
Features
Performance Simulation
Predict lifetime maintenance costs, spares costs and usage, maintenance crew manning requirements, safety and environmental risks and operational performance.
Data Analytics
Link your failure mode parameters to the data analysis engine to ensure simulation forecasts are up to date. Models can be built from assumptions, generic libraries or linked to your ERP system to use the latest available data.
System Hierarchy Diagrams
Graphically construct system hierarchy diagrams; and generate and print a list of functions, failures, failure modes and effects for each maintainable item hierarchy.
Failure Mode Identification
Quickly and easily identify critical failure modes in a systematic and structured manner to complete a Failure Mode Effects and Criticality Analysis (FMECA).
Maintenance Optimization
Optimization plots make it easy to view alternative maintenance scenarios side by side, evaluate maintenance tasks over a lifetime, and select the optimal strategies.
Connect Strategy to CMMS
Seamlessly connect to SAP and Maximo. With optimal strategies loaded directly into your CMMS, you can ensure the right strategies are executed.
RCM Data Storage
Capture and preserve engineering knowledge quantitatively, by updating strategies from work order history.
Evolving Strategies
Update a plant model when new data is available, or design changes take place to continually improve and develop living strategies.
---
With RCMCost you can:
Minimize costs
With the information gathered using RCMCost, you will gain a clear picture of the optimum costs of maintenance. You can use the data to test different ways to reduce costs such as:
Removing redundant maintenance plans
Determining a more efficient and effective maintenance schedule
Identifying opportunity costs associated with a particular turnaround frequency and duration
Determining whether it is more cost effective to repair or replace a piece of equipment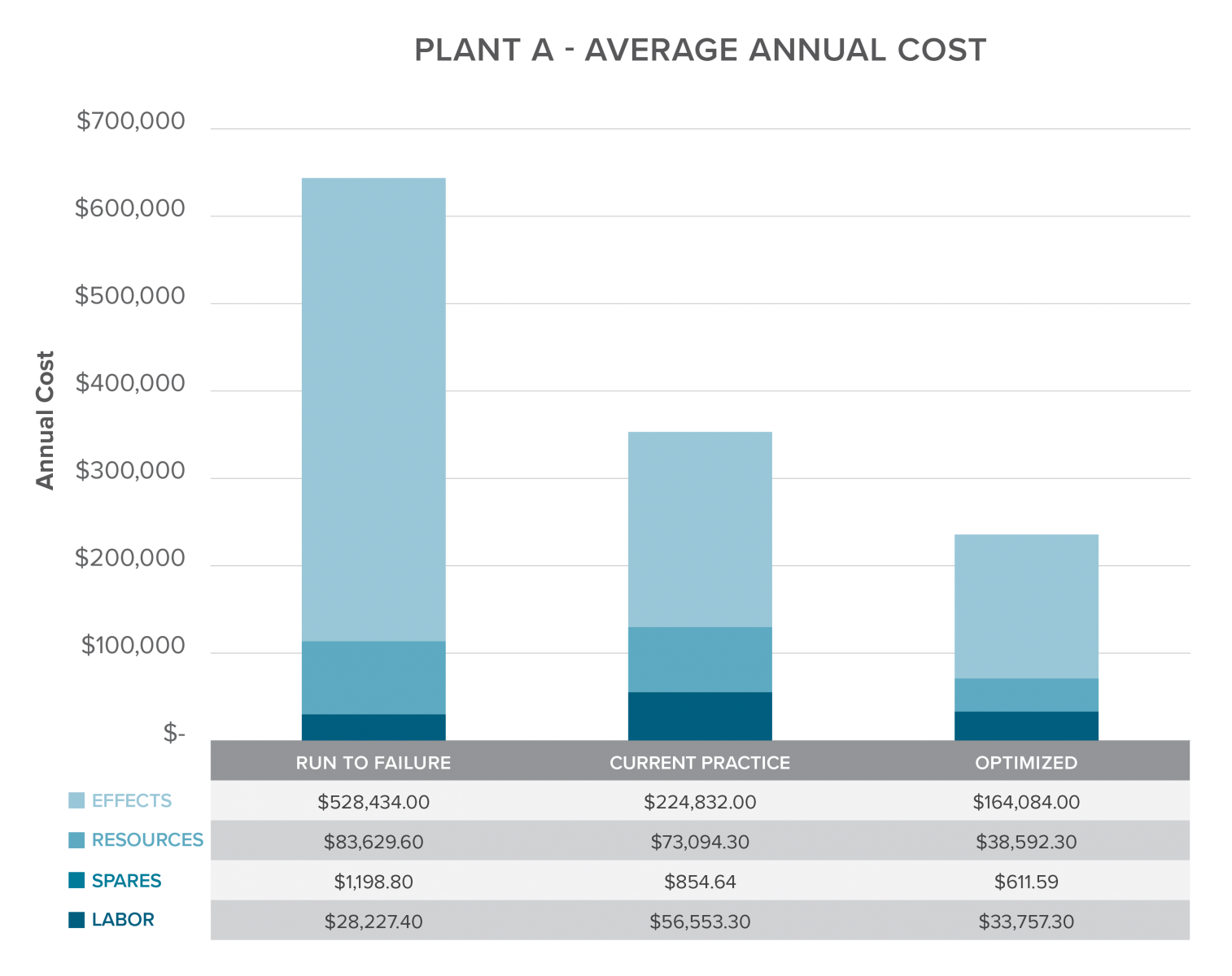 Justify your maintenance
With the detailed analysis possible in RCMCost, you are in the best position to choose and justify the optimum combination of tasks that will make up your maintenance plans. You can be confident that you are doing the right maintenance on the right equipment at the right time to achieve the desired output – all based on data and analysis.
Improve reliability
When optimal maintenance strategies are applied to your asset base and loaded directly into your CMMS for execution you can reduce unplanned downtime.
Meet your targets
When you align maintenance to overall business objectives and effectively manage your maintenance strategies you can maximize production, quality and safety at the lowest cost – while remaining within your company's risk threshold.
Share knowledge and promote innovation
Lifecycle simulation predicts task effectiveness, resource usage, costs and number of failures. It encourages innovation, is intuitive to use, and easy to compare scenarios side by side. Plus, saving studies to a library quickly builds a knowledge bank for ready deployment.
Availability Workbench™, Reliability Workbench™, FaultTree+™, and Hazop+™ are trademarks of Isograph Limited, the author and owner of products bearing these marks. ARMS Reliability is an authorised distributor of those products, and a trainer in respect of their use.