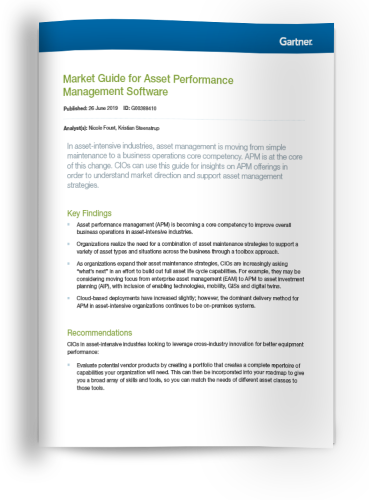 In asset-intensive industries, asset management is moving from simple maintenance to a business operations core competency. APM is at the core of this change. CIOs can use this guide for insights on APM offerings in order to understand market direction and support asset management strategies.
Market Guide highlights proven capabilities and Cordant™ Asset Strategy enhancements
The Gartner Market Guide for APM Software rates ARMS Reliability as having proven capability in Asset Risk Management and Reliability-Centered Maintenance (RCM). Summarizing the key capabilities of Cordant™ Asset Strategy 6.1 (the version available at the time of the report), Gartner writes that Cordant™ Asset Strategy:
"… supports devising and enhancing asset strategies by capturing and reviewing data from all sources. Together with Asset Management Solutions, it augments proactive strategy formulation and optimizes plant maintenance and reliability. Enhancements with the latest release include SAP S/4HANA certification, Risk Register (which enables an organization to capture, record, and manage strategic organizational risks within Cordant™ Asset Strategy) and Integrity and Inspection Management framework.
ARMS Reliability sets itself apart with Asset Strategy Management
While Cordant™ Asset Strategy is featured in the Market Guide alongside a number of APM solutions, ARMS Reliability classifies Cordant™ Asset Strategy as an Asset Strategy Management (ASM) solution. Both APM and ASM are essential to asset management and performance, but there are important differences that organizations should understand before embarking on any large-scale reliability initiatives.
1) Strategy first
APM is largely focused on asset condition assessment and monitoring. More specifically, APM is used to monitor inputs like temperature, pressure, and vibration, and uses increasingly sophisticated technologies like artificial intelligence and machine learning to predict impending asset failure. The resulting data and alerts trigger maintenance interventions to keep assets performing as they should.
What APM doesn't do, however, is evolve the reliability strategy of an asset to deliver performance and that's where ASM comes into play.
Implementing ASM first will support the development of the APM requirements and establish the value and cost-benefit of implementing APM on key assets. The ongoing connection can then be established to ensure that ongoing asset condition data is used to evolve and optimize whole of life asset reliability strategies.
2) Quality, optimized reliability strategies
ASM, powered by Cordant™ Asset Strategy, allows you to develop, implement, maintain and optimize asset reliability strategies to deliver the best balance of cost, risk and performance. Combining ASM and APM means you will have coverage of 100% of failure modes, both preventative and predictive maintenance practices, and ultimately make performance more predictable.
3) World's largest component strategy library
Anchored in reliability first principles, developed and curated from 20+ years of domain knowledge and failure mode data, ARMS Reliability has now made available to Industry a comprehensive component strategy library and best practice strategy templates. Comprising of 1,200+ component types, 8,000+ component items, 50,000+ failure modes, and 175,000+ mitigating and secondary actions, it's your fast start to developing strategies.
4) Execution of best in class strategies
ASM is built upon the concept of generating and deploying best in class strategies, on an asset type basis. Utilizing a connected dataset, for the ongoing evolution of the strategies, for all instances of an asset type.
5) Strategies that evolve to deliver performance
Through ASM, strategies dynamically evolve based on real data (including that from the APM efforts), appropriate analysis and justification, and an effective review and approval process to ensure your strategies remain aligned to business performance requirements.
6) Leaders in reliability for 20+ years deliver unparalleled solutions to market
ARMS Reliability's recognition as top leader in the ALM report for depth of consulting capabilities, alongside large multi-service firms (notably BCG and McKinsey), combined with recent recognition as a representative vendor in the Gartner Asset Performance Management 2019 Market Guide for their Cordant™ Asset Strategy software solution, shows industry validation that we uniquely deliver an unparalleled solution to market, where innovative technology is supported by deep consulting and implementation expertise.
To read more about Cordant™ Asset Strategy and gain further insights into the state of the APM software market, download your copy of the Gartner Market Guide for Asset Performance Management Software.
Disclaimer: Gartner does not endorse any vendor, product or service depicted in its research publications, and does not advise technology users to select only those vendors with the highest ratings or other designation. Gartner research publications consist of the opinions of Gartner's research organization and should not be construed as statements of fact. Gartner disclaims all warranties, expressed or implied, with respect to this research, including any warranties of merchantability or fitness for a particular purpose.
Get a copy of Gartner's Market Guide for APM