Validate system design, achieve reliability and availability targets, while balancing capital and maintenance expense.
A RAM analysis is a proven approach and effective tool for assessing system reliability, availability and maintainability. It is crucial to support the through-life viability of a project. The aim of a RAM analysis is to identify any significant causes of loss of operational availability or issues that may limit the production throughput and then propose improvements to the design or maintenance program to enable RAM targets and project requirements to be met.
Are you experiencing any of these problems?
Need to optimize system/process/equipment design to meet requirements but minimize costs
Ability to generate quality maintenance plans and master data cost effectively
Need to document reliability strategy data for handover and to support continuous improvement
Need to provide justified maintenance plans, budget and resource requirements
Need to accurately forecast availability and/or capacity given the equipment selected and maintenance plans deployed
ARMS Reliability utilizes a variety of RAM analysis tools for each project phase to enable asset management plans to be created in a streamlined way and to be consistent with the operational objectives of the project.
Ideally, a RAM analysis, supported by a Failure Mode, Effects and Criticality Analysis (FMECA), would be conducted in the design stages of a project. As design moves through the various FEED stages from concept, pre-feasibility, feasibility, detailed design, commissioning and handover, the RAM model also matures from high-level assumptions to specific failure mode models.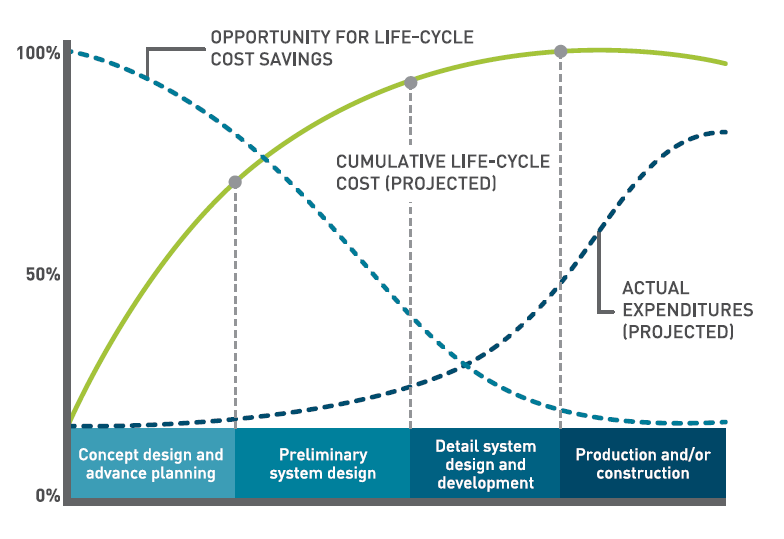 How ARMS Reliability Helps