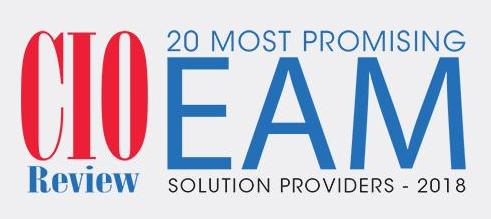 AUSTIN, Texas – ARMS Reliability was recently named by CIOReview to the magazine's 2018 list of the 20 Most Promising EAM [enterprise asset management] Solution Providers, for its innovative OnePM® software platform.
"We're honored that OnePM is being recognized as a game-changing digital asset-management solution," noted ARMS Reliability CEO Jason Apps. "OnePM® puts companies back in control of their risks and costs, through continuous dynamic deployment of digital strategies to physical assets. The OnePM software solution becomes the backbone of the organization's asset-reliability knowledge base; it connects and integrates with the maintenance-management process, and delivers improvements in performance, productivity, and efficiency."
CIOReview is a leading technology magazine that connects enterprise IT vendors and buyers, and helps identify solutions that can redefine enterprise business goals for the future. According to the publication, the purpose of the Top 20 list is "to help CIOs zero in on the right EAM solutions for their organizations …. The future of EAM is about examining how we use technology in the real world and making it easier to use, so we can not only maintain our assets, but also optimize the value of them."
Each year, CIOReview puts together a distinguished panel made up of CEOs, CIOs, venture capitalists, and analysts – including the magazine's editorial board – to review the front runners in EAM technology solutions and select those at the leading edge of tackling industry challenges. The annual Top 20 list highlights companies that "have manifested profound business process knowledge, along with in-depth, integrated, and innovative strategies in the EAM technology arena."
OnePM is a revolutionary Asset Strategy Management solution that serves as a consistent thread through all maintenance systems. It enables organizations to capture and review data from all sources, so they can efficiently and effectively manage and improve digital strategies for their entire asset base – supporting their operations with financially optimized strategies.
"Leveraging our technology, companies can now continuously monitor every strategy and identify areas of improvement or risk in real time," explained Apps. "By implementing the most optimum strategy and maintaining the balance between cost, risk, and performance, our clients gain substantial returns on their investment through an improvement in their bottom line. We're incredibly proud of the OnePM® platform and the important value it delivers."